Steel Structure & Railing
All types of Steel Structures Bulk Supply and Erection & Steel Railings
Huts and Cabins offers wide range of roofing systems as per the client requirement which is suitable for every climatic condition whether the location is near to sea ,mountain or normal land.In designing any roofing system ,huts and cabin always consider the key factors like durability, look as well as environmental conditions to deliver the best in class roofings. We offer multiple design which are suitable to low/high slope roofing system.This Roofing system lay over suitable steel section (Hot rolled steel or cold rolled steel .Ie LGFS ) of trusses and purlin with suitable Self Taping washer screws.
In our view roofing add the style statement to building in many ways, it also protects from wind pressure, rain water and maintain the lower temperature to our establishments. So, we understand its value so design with caution and deliver with care .
Our Roofing Solutions are :-
Metal Roof -

PPGI ROOF
PPGL ROOF
PUF INSULATED

Tiled Roof
Shingles
1(a )PPGI ROOF-
What is PPGI or GI ROOFING ?
"PPGI" stands for Pre-painted Galvanised Iron also known as Pre-coated steel or Colour Coated tin roofing. This is one type of corrugated metal roofing which are nowadays in a trend. They are lighter in weight, economical as well as highly durable.
" GI " stands for Galvanised iron also know as tin roofing or metal sheet . These are not in any pre-colour options. Rest is almost similar.
Key Features of PPGI Metal Roof
Light in weight
Durable/Long lasting
Very Economical
Weather Proof
Eco friendly
Resistance to corrosion, termite
No Mantainance
Applications: PPGI Metal Roof has many applications like
Schools
Labour shed
Shops
Guard Room
Huts
Hospital
Site office
Warehouse
Car Parking sheds
Farm houses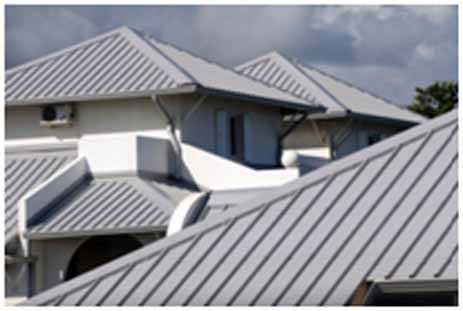 PPGI Metal Roof
1(b) PPGL
"PPGL" Stands for Pre-Painted Galvalume Steel. These Corrugated metal sheets are prepared with the combination of steel, zinc and aluminium.This metal roofing are durable, more heat resistant than PPGI and having more anti corrosion capabilities.
Huts and Cabins offers PPGL metal Roof /sheets of various colour ,thickness and sizes which lay over the designed steel sections of trusses and purlins fixed with suitable self tapping washer screw
Key Feature of PPGL Metal Roof :-
Durability
Anti Corrosion Capability
Light Weight
Economical
Eco friendly
Weather proof
No Maintenance
Applications: PPGL Metal Roof has many applications like
Schools
Labour shed
shops
Guard Room
Huts
Hospital
Site office
warehouse
Car Parking sheds
Farm houses
Pre Painted Galvalume Steel
1(c) PUF Roof-
PUF ROOFisMetal corrugated Sheets sandwich system in between gap filled with CFC free polyurethane foam called PUF insulated roofing Panels.
Huts and Cabins offers PUF Roofing solutions which is highly durable ,Eco friendly and weather proof . It is very useful for hot or cold weathers or any adverse situation like earthquake or high wind pressure condition. It is available in various colour schemes and customised sizes as per the requirement of user.With PUF Metal Roofing any design and delivery can be done with ease.
PUF Metal Roofing designed by considering factor like end use requirement, wind pressure ,live load, dead load and seismic zone of end user location. In view of the above factors suitable trusses and purlins of steel sections are designed to deliver best in class roof.
Key Feature of PUF Metal Roof :
Highly Temperature Resistance
Flexible Design option
Energy Efficient
Durable
Anti corrosion ,Termite and Fungus free
Eco-Friendly
No Maintenance
Applications: PUF Insulated Metal Roof has many applications like
Cold Storage
Prefab Building
Modular Home
Prefab Home
Pharma Storage
Schools
Office
Prefab Barrack
Guard Room
Resort
Hospital
shopping complex
warehouse
Car Parking sheds
Farm house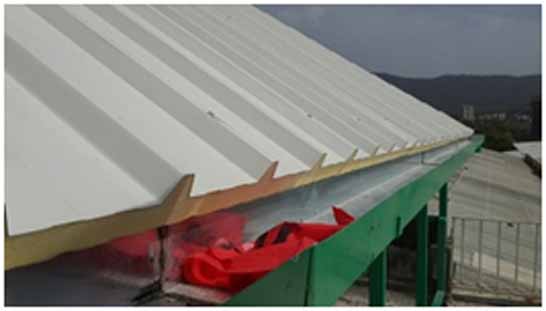 PUF Roof Work
Huts and cabins offers only modern tiled roofing which are lighter in weight, highly durable, impressive look and create rich feel to building. We uses french technology tile roof product called "O villa " which has proven track record from decades. This Tiled Roof sheets is made from composite of asphalt with a fibre matte core.
These Tiled Roof is suitable for premium home ,villas ,resorts and other establishment. This roof has eye catching look and feel with great designing capabilities. This can be lay over directly over steel frames even or can be done over other roofs like PUF ROOF, Wooden Board,Cement Fiber Board ,etc.
Tiled roof or O villa roof comes in various colour options. So can go with the theme of the building.
Hutsandcabins offers shingles in various colour schemes so you select as per your choice and introduce new impressive style and look to your roof.