Multi-Storey (G+) Prefab Building
Huts & Cabins offers a wide range of modular Prefab Double Storey / Triple storey Structure with PUF/EPS insulated panels/ Light Gauge Steel Framing (LGSF) structures. We offer the solutions for Prefab Multi Storey Structures with well designed structural framework considering the seismic zone, wind load, dead load etc. Huts & Cabins offers complete turnkey solutions for prefab Double Story Structure under one roof starting from designing, fabrication, production and till installation. Moreover these Prefab Multi Storey Structures are constructed with insulated panels to suit the harsh environmental conditions.
These structures are best suited for living accommodations, office block or storage purposes where land availability is limited. We provide customized solution for very requirement to fulfill the need of the customer to the utmost possible level. A quick multi storey structure with thermal and acoustic insulation, with the possibility of re-location coming at an economical cost is the perfect solution for the requirement of Mass accommodations, Group Housing, Worker accommodation, Office building etc.
Normally, prefabricated buildings are limited by the rules of the road; in this case, the Finnish prefabber Huts & Cabins built the entire building in a shipyard and delivered it by barge to a site on Hirvensalo island near Turku, Finland. Huts & Cabins normally builds more conventionally sized modules out of FIXCEL, a load-bearing steel honeycomb panel that can carry weights equivalent to a 15 storey tower.
Inhabitat and Gizmodo call it an apartment building, but the Huts & Cabins website calls it an office building. Gizmodo and Huts & Cabins also claim that it's the first multi-storey building in the world; it's not, there have been a number of factories built to turn out complete multi-storey houses. But nonetheless the idea is interesting, if limited in its application.
It is a clever repurposing of shipyards; the CEO of the yard where the building was assembled told the local newspaper that he hopes that the business might bring work to shipbuilders and metalworkers who have been left unemployed by the decline of the shipbuilding industry. "Now we can bring work to where it has been taken away."
The assembly of steel core panel elements was started at the shipyard in December 2010. The steel foundation was constructed in the first phase. The frame was assembled from three large blocks. The frame blocks were lifted onto the steel foundation using indoor hoists. The core panel structure supports both itself and the whole building, so there was no need for a separate frame structure.
HVAC and electrical work, installation of light fittings and tiling of sanitary facilities were done at the shipyard. The frame was clad and inner and outer surfaces were finalized. On the plot the building is hydraulically shifted from the carriages onto the reinforced concrete piles and connected to the public utility services.
I think that the building system, which is more like building a house of cards than conventional construction, is far more interesting than the one-off building on a barge. These panels are lightweight, fireproof, strong and have good acoustic properties. Huts & Cabins has designed entire apartments that can be dropped on top of buildings; they are light enough that extra support columns are not needed. This is one to watch. More at Huts & Cabins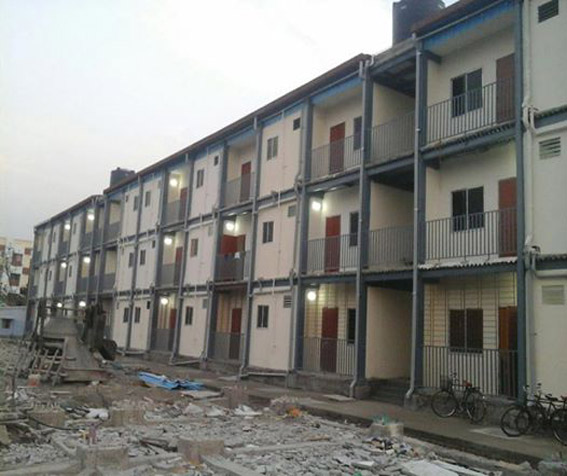 G+2 Prebaf Building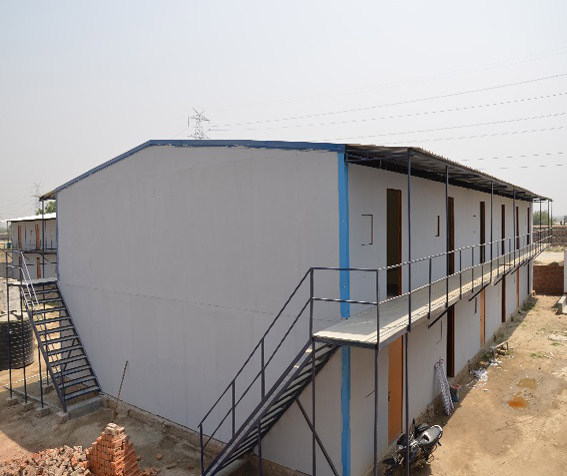 G+1 Prebaf Building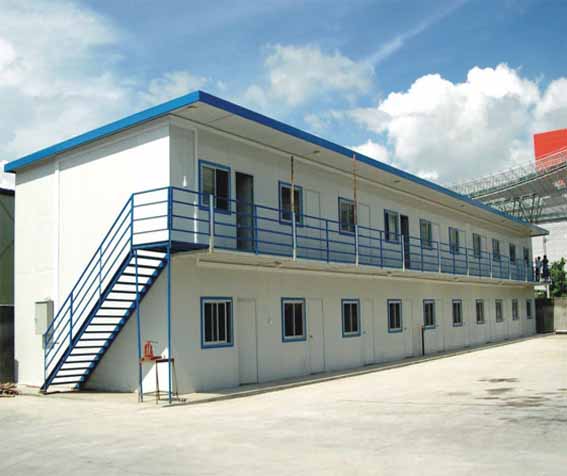 Ground+1 Prebaf Building